Did you have an Oscar contest with your family and friends last night? We did, and I think Precocious might have taken the whole thing just by playing *eeny meenie miny mo* with her Oscar picks. She doesn't know any of the movies or stars, and I think it helped.

I was rooting for Meryl long before she hit the red carpet, I loved her in Julie & Julia and I think she deserved the Oscar for her performance. She looks phenomenal in white. What a classic gown too. Way to go Meryl, we love you at our house!

I didn't see Vera Farmiga's movie, but her dress, oh her dress made me swoon last night. The color, the ruffles, the oh! Loved it.

I know Elizabeth Banks has done other things since Scrubs, but I'll always love her for it. And I adore her for taking a chance on the red carpet last night. The train was awe inspiring Elizabeth, kudos!

J.Lo? I think this might be the first and last time we agree on a dress, ever. But you nailed it last night, even if this isn't the most flattering photo of how hot you looked.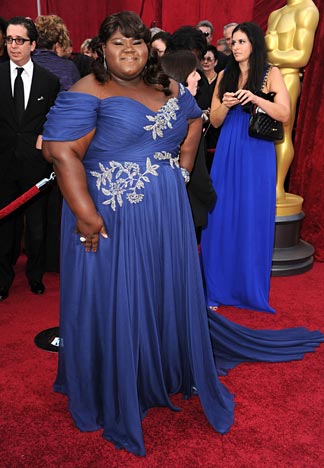 Gabourney Sidibe, I saved the best for last. You were darling last night. The dress was fabulous, the color divine on you, and the fist bumps on the red carpet made me giggle. Love you.
What did you think about last night? Do you even care about Oscar fashion? I would have given anything to have been on the red carpet last night seeing the dresses and accessories up close. It's my Super Bowl people, my March Madness, my rodeo season.
Whatever, I love it.
P.S. Tim McGraw? Please grow your beard back, you look weird without it.
photos via US Weekly.com
(Visited 578 times, 2 visits today)