I went on a local NBC morning show called Studio 5 this past Thursday to talk about accessorizing outfits. I learned a few things about myself:
1. I'm a hand talker. Jazz hands flailed all around me, out of my control while I excitedly talked about accessories.
2. I don't get nervous for live TV. Go figure.
3. The next time I do an on-air interview I guarantee I will have the plague, swine flu, or something worse. I literally woke up with a 10-pack-a-day smoker's voice and cough a couple of hours before I went on the air. Awesome.
4. I actually had a lot of fun doing live TV. Serious. Actual fun.
5. Which leads me to #5. Count the number of times on the video I say *fun*. I guarantee it's at least 5, or 6. Maybe 7. Also? I say *crazy* a lot.
Viktor and Charming came with me to lend moral support. Charming was totally Charming and ended up with a handful of cookies before we left the building. Figures. He was asked not to whistle off camera though; he can't help himself, he's a whistler. A happy kid with not to many worries on his mind.


Getting *miked*. That doesn't sound good, but the guy was really nice.


Warming up my jazz hands. And jazz face too apparently.


There's a lot of behind the scenes action going on during a show. A lot of people quietly running around behind the scenes to keep things moving smoothly. It was pretty surprising to me just how many people can fit in a studio. I didn't count, I'm just saying. It's a lot.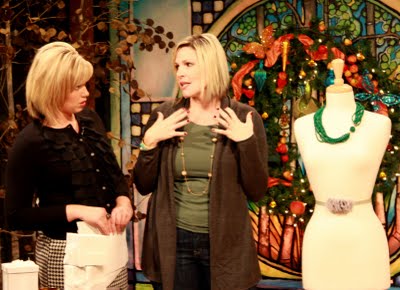 Jazz hands in full effect. Notice the belt on the form? Headband by Susan of Freshly Picked. Were I to have a waist so small, I would totally do that.
(Visited 179 times, 1 visits today)